University of Belgrade, Faculty of Mechanical Engineering
Faculty of mechanical engineering, Belgrade
Kraljice Marije 16, Beograd
University of Belgrade, Faculty of Mechanical Engineering (UB-FME) represents the oldest and the largest institution providing the university-level education in the mechanical engineering profession in Serbia.


Faculty of Mechanical Engineering offers all levels of education: Undergraduate (Bachelor's) academic studies, Graduate (Master's) academic studies and Doctoral studies. It is training Mechanical engineers (B.Sc. in ME), Dipl. Mechanical engineers (i.e. M.Sc.) in ME and Doctors of Science in Mechanical Engineering (Ph.D. ME) through elective modules covering the key mechanical engineering areas.

Faculty of Mechanical Engineering performs basic, applied and developmental research activities, working independently or in collaboration with other scientific and research institutions.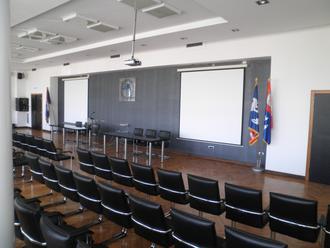 Forms of cooperation and services which UB-FME offers include: research and experimentally based development within both technical-technological sciences and multidisciplinary studies, organizing scientific and technical meetings and seminars, cooperation with educational, scientific and other institutions both at home and abroad, elaborating studies and analyses, general and main mechanical designs, main mechanical-technological designs, providing technical documentation for various apparatuses, machines and accessories, as well as performing technical control of documentation.


The Innovation Center at the Faculty of Mechanical Engineering, University of Belgrade, has been established as an independent economic entity, aiming at developing enterpreneurial collaboration.

Through the Innovation Center performed is transfer of technology. Particularly interesting is creating of highly finalized and commercially attractive products.
---
---